The Shooting Display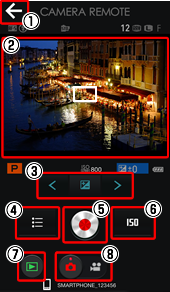 Close: Close the app.

Shooting display: Tap anywhere in the frame to focus (see below).

Control menu: Adjust zoom, exposure compensation, and other settings. Tap the left and right arrows to choose a control.

Menu button: Access the shooting menu.

Shutter button: Take pictures.

Menu shortcut: Tap to display the most recently selected menu item.

Play: View pictures on your smartphone.

Photo/movie button: Switch between photo and movie modes.

The options available vary with the functions supported by the camera.
■Tapping the Shooting Display
With some cameras, tapping the display has the same effect as pressing the shutter button halfway. Tap anywhere in the frame to focus. The focus frame will be displayed in green if the camera is able to focus, or in red if the camera fails to focus.