Setup involves:
(1) adjusting network settings (connecting the camera, Wi-Fi router, and computer in a wireless network) and
(2) noting the destination folder.

Before proceeding:
Check that the camera and Wi-Fi router are on.
Check whether the router is equipped with a WPS button.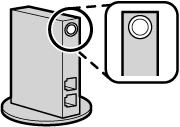 If it is, you will be able to connect to the network without entering a password or adjusting other network settings, SIMPLE SETTING (via WPS), recommended. If it is not, you will need to connect manually, (MANUAL SETTING).